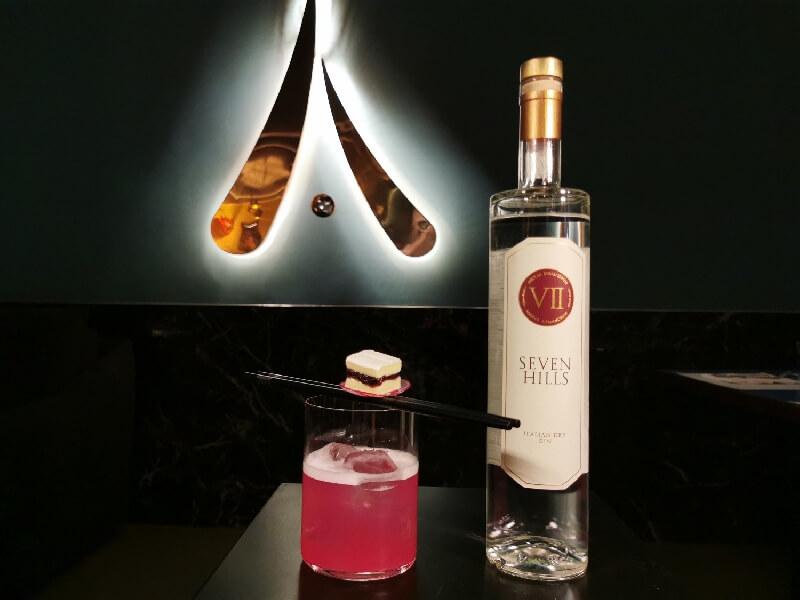 ROMA. The Pink Hill è il drink ispirato al film "La Pantera Rosa". Ad idearlo Francesco De Nicola, bar manager di Amami a Roma, in collaborazione con il capo barman Matteo Battistini e lo chef Riccardo Fanucci, che ha realizzato il mini sandwich. Dai più grandi ai più piccoli, chi non conosce il più simpatico e sgargiante felino del cinema?
Ecco la ricetta per realizzarlo comodamente da casa.
BARTENDER: Francesco De Nicola, bar manager di Amami, a Roma
INGREDIENTI
5 cl VII Hills Italian Dry Gin
4 cl succo di limone fresco
2,5 cl sciroppo di zucchero
3 cl acqua di cavolo viola
2 gocce bitter al limone
Bicchiere: tumbler
Garnish: mini sandwich di formaggio 'Sette Colli' ripieno con mostarda di cavolo viola
PREPARAZIONE
Con la tecnica dello shake and strain, versare in uno shaker il VII Hills Gin, il succo di limone fresco, lo sciroppo di zucchero e l'acqua di cavolo viola, ottenuta bollendo il cavolo viola all'interno di una pentola. Introdurre del ghiaccio nello shaker e shakerare vigorosamente. Versare, filtrando il tutto, all'interno di un tumbler e completare con del ghiaccio a cubetti. Completare versando due gocce di bitter al limone.
"The Pink Hill" rappresenta queste geniali intuizioni con l'uso del cavolo viola, che diventa nobile ingrediente in questo drink, grazie alla base di VII Hills Gin, e alle sue botaniche romane che riecheggiano nel nome dei 'Sette Colli'. La preparazione stessa del drink, proprio come il film, è un susseguirsi di colpi di scena, una successione gustosa di colori: il cocktail passa dal trasparente del VII Hills Gin, al blu, con l'aggiunta dell'acqua di cavolo viola fino a un magico pantera-rosa, grazie al succo di limone fresco. Reazioni chimiche naturali per un drink magico e fuori dagli schemi, in cui ogni ingrediente è un tassello per risolvere il caso, quello del "The Pink Hill"!