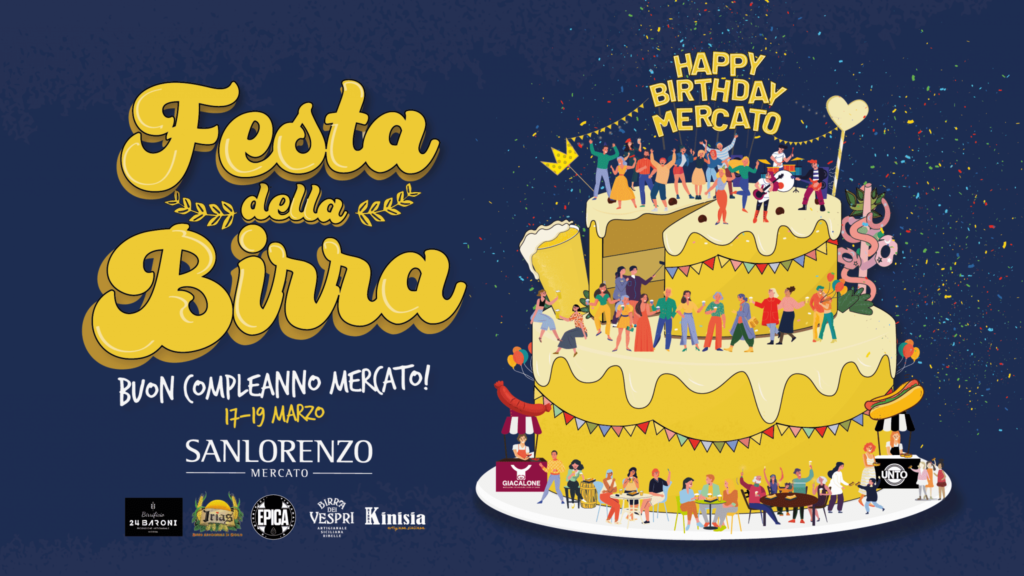 Palermo. Sanlorenzo Mercato: settimo anniversario all'insegna della birra. Dal 17 al 19 marzo il mercato Sanlorenzo festeggia 7 anni di attività, per l'occasione è stato organizzato uno degli appuntamenti di punta: la Festa della Birra siciliana. Nel porticato esterno saranno allestite cinque postazioni attive venerdì e sabato dalle 19 in poi e domenica sia a pranzo che a cena. Ad accompagnare le birre artigianali, due specialità del Mercato ad un prezzo speciale: gli hot dog di UNTO e il panino con la salsiccia di Giacalone Meat.
Sanlorenzo Mercato: settimo anniversario all'insegna della birra
Venerdì 17 marzo e sabato 18 a partire dalle 19 e domenica 19, per l'intera giornata, nel giardino del Mercato ci sarà una sfilata di birre artigianali, rigorosamente del territorio, dalle caratteristiche originali e dalla lavorazione genuina, per una durata di tre giorni tutta da gustare. Questa festa è stata organizzata in occasione del settimo anniversario del mercato, quale migliore occasione per promuovere la birra siciliana?
A tutta birra
Il ticket di degustazione dal valore di 10 euro potrà essere acquistato direttamente alle casse del mercato: comprende 4 assaggi e una degustazione in omaggio. In ognuna delle cinque postazioni altrettanti produttori saranno presenti per spiegare e presentare le proprie birre artigianali, rigorosamente siciliane: ci si può così confrontare direttamente con i birrai di Birra Irias di Torrenova, Birrificio Epica di Sinagra, Birrificio 24 Baroni di Nicosia, Birra dei Vespri di Altavilla Milicia, Birra Kinisia di Carini. Spazio anche alle birre gluten free con il birrificio 24 Baroni specializzato nella realizzazione di birre senza glutine. Per l'occasione anche Unto e Giacalone meat propongono due best seller ad un prezzo speciale: rispettivamente l'hot dog e il panino con la salsiccia. Che bontà!
A ritmo di musica
Imperdibili anche i quattro live musicali che da venerdì a domenica arricchiranno le serate del Mercato e il pranzo della domenica. L'ingresso è gratuito. Il programma:
Si inizia alla grande venerdì 17 marzo alle 21.30 con Jack and the Starlighters, con un repertorio che abbraccia tre decadi di storia della musica – '50, '60 e '70 – per uno spettacolo revival omaggio al grande rock di quegli anni: dai Rokes all'Equipe 84 passando per Chuck Berry, Paul Anka, i Led Zeppelin e la PFM, in un concerto che diviene un vero e proprio show.
Sabato 18 marzo, alle 21.30 è la volta dei Tre Terzi band che ha conquistato tutta Italia, calcando palchi prestigiosi come l'Ariston di Sanremo. Nati a Palermo nel 2009, oggi sono formati da Claudio Terzo (voce e chitarre), Ferdinando Moncada (chitarre) e Diego Tarantino (basso), con loro collaborano Emanuele Rinella e Ferdinando Piccoli (batteria).
Il compleanno del Mercato si chiude domenica 19 marzo con ben due appuntamenti musicali: alle ore 13.00 nel giardino del Mercato approda l'Acoustic Tribù, ovvero Michela Sacco (voce), Carlo Brucato (chitarra), Francesco D'Alleo (basso/contrabbasso).La band trova il suo punto di forza nella diversità di percorso dei singoli musicisti che si integrano perfettamente tra loro offrendo interpretazioni eleganti, a volte essenziali e profonde, di brani di Amy Winehouse, Norah Jones, Etta James, Ray Charles, Nina Simone e tanti altri.A partire dalle 21.30 tornano sul palco del Mercato, i Treephase con il meglio della musica italiana d'autore: dalla poesia di Battiato fino al blues di Pino Daniele.