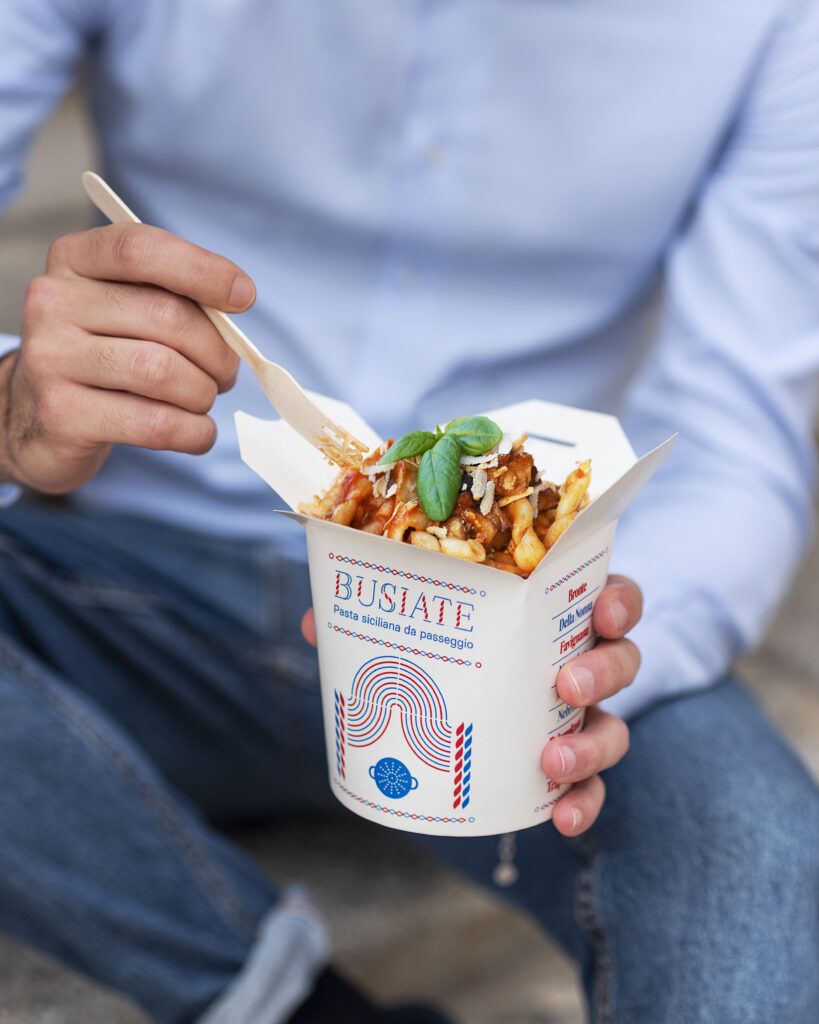 PALERMO. Ci si sente come a New York, pensando alle vacanze al mare delle Egadi, passeggiando con il proprio brick di cartoncino fumante di pasta tra le mani del nuovissimo ristorante da asporto Busi.ate, che ha aperto i battenti all'inizio del nuovo anno nel cuore della movida mangereccia palermitana, in via Isidoro La Lumia.
Il primo format di pasta fresca trapanese da passeggio
Perciò, se pensavate esistesse soltanto il caffè, il gelato, le caldarroste o la comoda rosticceria da passeggio, vi sbagliate. A sdoganare persino il primo piatto on the go sono Francesco Alagna e Anna Ruini, entrambi nel mondo della ristorazione, grazie al sogno di unire e far conoscere i sapori della Sicilia, le vecchie ricette della nonna e gli ingredienti locali, ma in una versione contemporanea.
"Ci siamo ispirati alla modalità di consumo dei noodle orientali serviti nei box – raccontano –. Noi però nel coppo abbiamo messo un concentrato di Sicilia: dalla pasta, agli ingredienti, alle ricette per offrire un genuino sapore di casa".
Busi.ate, pasta siciliana da passeggio è il primo format dedicato alla pasta fresca tipica del trapanese, che prende il nome dal ramo di buso, essiccato e utilizzato per arricciarle. Ancora oggi questi fusilli allungati a forma di spirale vengono preparati a mano da nonne e mamme. Dunque, non una pasta qualunque. Infatti, è dall'omonimo amore per questo speciale formato di pasta fresca che Busi.ate ha fatto il suo debutto in città.
Dopo il primo negozio aperto nel 2021 a Marsala, Busi.ate approda nella capitale dello street food, con un locale dall'anima pop, a pochi passi da Piazza Politeama.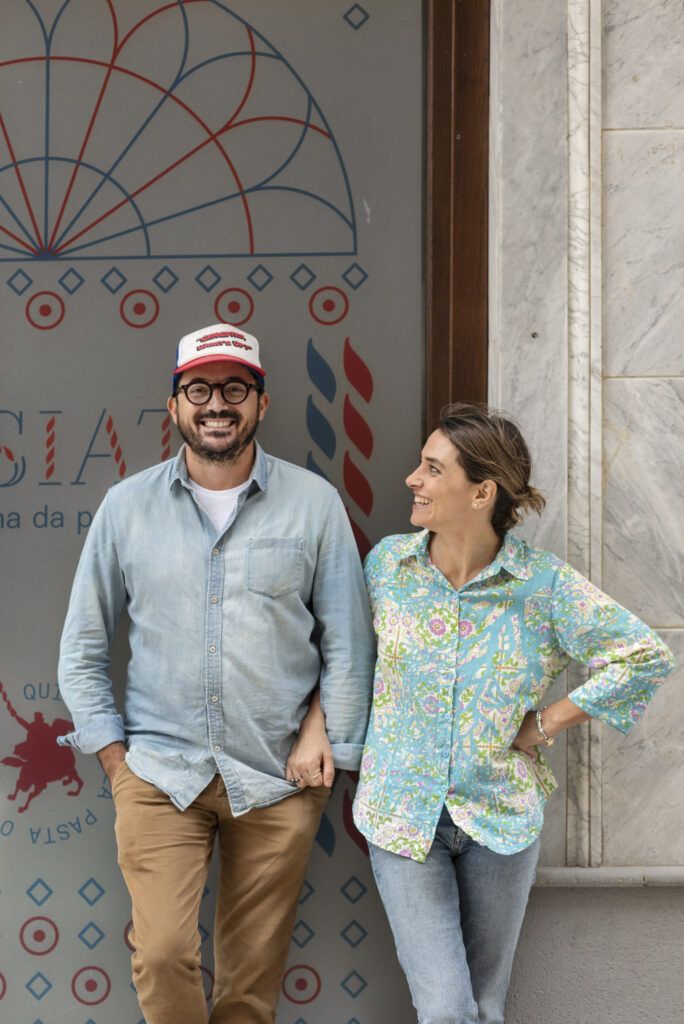 Busi.ate trapanesi condite con i sapori della Sicilia eccellente
Le busiate sono cotte al momento e possono essere condite con sughi di pesce, carne e vegetariani, ispirati ai diversi territori dell'isola: si va dal classico pesto Trapanese, con mandorle siciliane, pomodoro, basilico e aglio di Nubia, alla Palermitana con sarde e finocchietto. Ancora, il ragù di salsiccia racchiude tutto il sapore dei Nebrodi, mentre con il pesto di pistacchio si arriva fino a Bronte. Tanti gli special settimanali.
Inoltre, tutte le busiate possono essere personalizzate in base ai propri gusti aggiungendo extra-condimenti come la mollica atturrata, le mandorle siciliane tostate o la ricotta infornata. E sono disponibili anche in versione integrale e gluten free.
Busi.ate on the go, ma anche in formula delivery e take away
La formula on the go permette di non rinunciare al comfort food per eccellenza e di sentirsi come sulla quinta strada gustando un bel piatto di pasta passeggiando per il centro, magari indulgendo in pausa pranzo tra una vetrina e l'altra.
E per chi vuole prendersi più tempo e gustare questo prelibato primo piatto della tradizione trapanese a casa, Busi.ate è disponibile anche per asporto e consegna a domicilio. Addirittura, ci si può sbizzarrire ai fornelli, semplicemente acquistando in negozio l'occorrente e la pasta fresca per preparare a casa propria, in pochi minuti, un bel piatto di busiate maison.
Info utili
Busi.ate, pasta siciliana da passeggio si trova in Via Isidoro La Lumia 29A, a Palermo ed è aperto tutti i giorni da Lunedì a Sabato a pranzo e a cena, nei seguenti orari: 12.00- 15.00; 19.00-22.30.
Ti potrebbe piacere anche Busiate di grano duro con "sparacelli arriminati" su crema di zucca profumata al mandarino, verdure di campo, nocciole e ricotta di pecora al forno